It was around 3 pm EDT when reports are starting to drift out of California saying that Linkin Park singer Chester Bennington had died. The cause of death was apparently a suicide by hanging. His body was discovered at in a private home in the 2800 block of Via Victoria in Palos Verdes Estates home around 9 am PDT today (July 20). Firefighters originally thought they were responding to a cardiac arrest, but when they arrived, they found a male victim who had hanged himself. They cleared the scene by 9:29 am.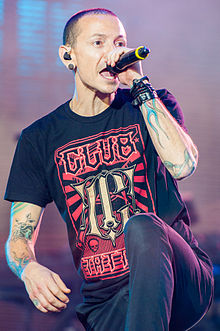 Chester has had substance abuse problems in the past–something that he often talked and sang about (Think "I can't help the fact that everyone can see these scars/Time won't heal this damage anymore/Don't turn your back on me/I won't be ignored" from "Numb")–but there was no indication that he'd relapsed. He once talked about having suicidal thoughts because of childhood abuse trauma involving an older male.
Bennington was born in Phoenix and joined up with Linkin Park in 1999. Although they were birthed by the nü-metal era of the late 80s, their mix of heavy rock and rap wasn't nearly as polarizing. In fact, Linkin Park found a sweet spot that allowed them to tell tens of millions of records, even in an era dominated by file-sharing and shifting tastes of rock fans. Their debut, Hybrid Theory, sold 10 million on its own just in the US, immediately setting them up as a powerhouse act.
Linkin Park thrived through 00's, although their relationship with their label was often fraught with disagreements. In the end, though, Linkin Park got their way.
When the band wasn't busy, Chester often went to work for PETA, a cause that he wholeheartedly supported.
In 2013, Bennington was drafted as Scott Weiland's replacement in Stone Temple Pilots, something he enjoyed doing for almost three full years. He quit the group to go back to Linkin Park in November 2015. Less than a month later, the man he replaced was dead of an overdose.
More death was to follow when Chester lost Chris Cornell, one of his best friends. He wrote this letter to Chris on Facebook.
With all of my love @chriscornell. pic.twitter.com/NFz0dnxfp8

— Chester Bennington (@ChesterBe) May 18, 2017
Earlier this year, he sang Leonard Cohen's "Hallelujah" at his Chris Cornell's funeral.
.@ChesterBe & Brad performed 'Hallelujah' at Chris Cornell's funeral. Heartbreaking performance #RIPChrisCornellhttps://t.co/vY8rUKSW4n pic.twitter.com/p3WnNWcBHp

— Linkin Park Live (@LPLive) May 26, 2017
Today,  by the way, would have been Chris' 53rd birthday. A coincidence?
And then there's this tribute to Chris.
He leaves behind a wife and six children.
Bandmate Mike Shinoda left this on Twitter.
Shocked and heartbroken, but it's true. An official statement will come out as soon as we have one.

— Mike Shinoda (@mikeshinoda) July 20, 2017